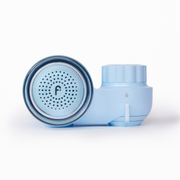 The #1 Water Filtration Device Made For Skincare
Filterbaby was founded by a family deeply rooted in holistic medicine for 3 generations. As such, we have always had a deep desire to find the root cause of health conditions and treat them naturally. We subject our products to rigorous scrutiny, meticulously evaluating everything from structural integrity to ingredient formulation. Our commitment is simple: to bring innovations with high standards, to help you look better, feel better, and live better, naturally.
Shop Now
Pinnacle of Filtration Performance
Filterbaby's faucet filters are made in Japan, with the most advanced filter material and strict quality. It stands out as the most effective in removing high levels of Chlorine and Chloramine. Far exceeding NSF-177 and NSF-42 standards. Our multi-step filtration reduces up to 99.9% of Chlorine and Chloramine, 99% Bromodichloromethane, 99% of Microplastics, Rusts, Lead particles, 97% Chloroform and Total THMs, up to 99% heavy metals such as copper, zinc, iron, and a myriad of other chemical contaminants.
Shop Now
Superior Material, Thoughtfully Designed
Filterbaby is crafted using premium materials from A rated manufacturers around the world. Designed in Switzerland and made in Germany, our water limiter endures high pressure, while the shatterproof, heat-resistant clear window, made of FDA-approved Tritan from the USA, ensures durability. The core filter, from Japan, embodies the pinnacle of water filtration tech and strict quality control.
Shop Now
Easy, Seamless Installation
Designed to be installed in under 5 mins. Fits 99% of faucets with a circular aerators. No plumber needed!
Shop Now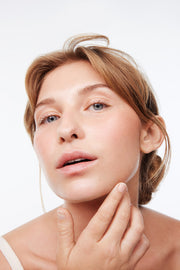 Clinically tested to improve skin hydration in just 2 weeks
Better water, better skin.
Tap water's out, filtered water's in.
Softer Skin

Reduce 99.9% of Chlorine and Chloramine as well as a myriad of chemicals that are drying your skin.
Promote Healthy Skin

Filterbaby helps improve skin hydration, a key factor in maintaining skin suppleness and preventing premature aging.
Improve Skin Quality

Reduce 99.9% of rusts, microplastics and contaminants as small as 0.1 microns, resulting in less redness and irritation.
Works Instantly

Feel the difference in water quality instantly. See results in as soon as 2 weeks.
Clinically Tested

Filterbaby is clinically tested via 3rd-party clinical lab, by dermatologists, and objectively measured to improve skin hydration in just 2 weeks.
Long-Term Skin Health

Consistent use of filtered water supports the long-term health and resilience of facial skin, contributing to its longevity and overall well-being.
Hear from the Experts
"Filterbaby is the one game changing tool that everyone should have on their faucet."
"Filterbaby helps to improve dry, eczematic, acne-prone and rosacea skins. The quality of your water matters."
"People with dry, sensitive, problematic or aging skin should get a Filterbaby."
"Filterbaby is one of the most natural and effective ways you can take care of your skin."
The softest my skin has ever been!
In the 30 days I've had it, my skin has healed more than I could hope for. I am so excited to see my skin continue to improve.!
Everyone should have this Filterbaby!
After so many years of fighting against acne and acneiform dermatitis, I can say that I have managed to recover my skin's health to 80% in two weeks thanks to this filter. I'm so grateful for this product.
Hello clear skin, goodbye dryness!
The water in my area is very hard and I noticed a difference in my skin after moving here. My skin started to get very dry and red. Within one month of using Filterbaby, my skin cleared up and I didn't have any more dryness!
Such a great, easy addition!
Such a great addition to my skincare! I noticed right away that everytime I used the filter wash my face, it doesn't feel as dry as it usually would.
Feels good knowing I'm addressing the root cause!
My skin is so much more hydrated and my skin has had much more of a glow. I don't think a product has ever done that for me. My breakouts are way less often and way less severe"
Significant improvement in my dry and eczematic skin!
"I love my water filter!! I was dealing with regular cystic breakouts, redness, and overall skin irritation. Ive been using filter baby for 2 months now and have noticed a significant improvement in my skin texture and amount of breakouts."
Easy to Install and Great Customer Service!
"Such a great addition to my skincare! I noticed right away that every time I used the filter wash my face, it doesn't feel as dry as it usually would."