#1 Dermatologist Recommended Water Filter For Softer, Healthier Skin
Filterbaby instantly filters your tap water for your freshest clean ever. It works by reducing both chemical and physical contaminants commonly found in tap water, promoting healthier, softer and more radiant skin.
$89
Dermatologist recommended and tested, great for sensitive skin
Protect epidermis from chlorine and micro-contaminants in tap water
The solution for people who have acne-prone, eczema, rosacea and problematic skin
Try Filterbaby completely risk-free, thanks to our 60-day money-back guarantee
The Results Speak For Themselves
Acne
Eczema & Rosacea
Dry Skin
Sensitive Skin
Agreed it's the best their skin's ever felt.
Would never go back to using tap water again.
Measured in hydration improvement after only 2 weeks of daily use of Filterbaby.
*Results from clinical study.

**Results from internal study.
We filter the water we drink, why not for our faces? Ever since I used Filterbaby, my skin feels cleaner, softer and more refreshed.
Trusted by Over 70,000+ Customers and Healthcare Professionals
"Tap water can cause dryness, irritation and even breakouts because it can clog your pores," she tells us. "It can also make your psoriasis worse or any other skin condition."
"After using Filterbaby for week, I noticed that my skin felt softer. After two weeks, my forehead acne had all but disappeared, and by the third week, I noticed a difference in my skin's dryness."
"Filterbaby can be worth it for people with dermatitis such as eczema, atopic dermatitis, acne or rosacea because it can help to reduce skin sensitivity in some cases."
"Fine lines, sensitivity, blemishes... whatever your skin woes, it's safe to assume that tap water has been low on your list of culprits but perhaps it's time to take a closer look at your faucet."
"Have you ever noticed stains around the faucet in your bathroom? What gets deposited on the walls is the same residue that gets deposited on your skin."
Get Softer, Radiant and Better Skin, Backed by Science
Hydrated and Softer Skin
Reduce 99% of Chlorine and myriad of contaminants in tap water and protect skin from harm.
Reduce Skin Irritation
Accredited Testing Facility Simple Lab: showed a reduction of 99% of hard-metals such as Iron, Copper and Zinc. This means less clogged pores and less breakouts.
Promote Healthy Skin
Numerous studies show tap water can damage the skin barrier, especially if used for years. Filterbaby helps protect skin.
Works Instantly
Get instant filtered and fresher water when you're using Filterbaby. See results as early as 2 weeks!
Clinically Tested
63% of participants measured in improved hydration. *71% reported improved radiance.* 93% Reported they will never go back to using tap water again. **
Protect Skin Epidermis
Dermatologist Recommended and tested. Great for Sensitive Skin.
The Holy Grail of Skincare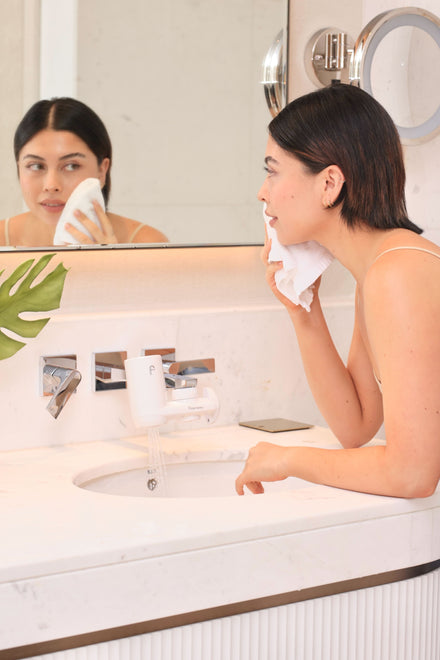 Your Best Skin in 2 weeks.
Filterbaby is the only filter clinically tested to improve skin moisture in just 2 weeks!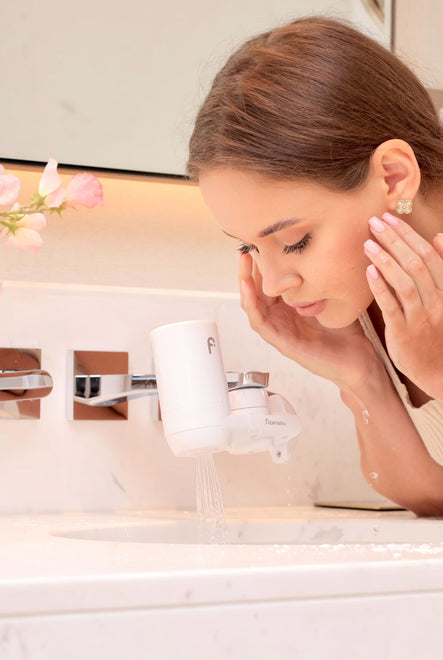 Try the world's best water filter for your face
We developed the world's first and best water filtration device. Why? because the skin on your face is the thinnest and most delicate part of your entire body and putting on a water filter protects it.
It's life-changing...
Thousands of customers have claimed this was a 'game changer' in their skincare routine. And 95% would never go back using tap water again.
Without Filterbaby
Dry, Flaky, Irritated Skin

Not dermatologist recommended.

Chlorinated Water.

Hard metals can clog pores.

Dull, lackluster skin.
With Filterbaby
PRODermis®
Clinically Tested More Hydrated Skin

Dermatologist approved.

Removes 99% chlorine.

Removes 99% of physical contaminants as small as .2 microns.

Healthier & more radiant skin.
Other Non-Skincare
Filters
Not Clinically Tested

Limited Chlorine removal

Not Dermatologist approved

Does not remove minute particles (rusts, microplastics, corrosion, etc.)

Not tested for skin
Frequently Asked Question
Everything you need to know about Filterbaby, answered here.
How do I know Filterbaby will fit on my faucet?
Filterbaby is currently compatible with ~98% of US faucets with a circular removable aerator! Your kit comes with 8 adaptors to help fit different faucet sizes.
How easy is it to install?
Super easy! Filterbaby is installed in just five steps. No plumber needed. Everything you need comes in the box.
What type of results should I expect?
The vast majority of users report feeling an improvement in their skin just after two weeks use including:

- Decrease in breakouts
- Increase in moisture
- Improvement in skin radiance
- Decrease in redness and irritation

We recommend taking before and after photos for optimal comparison (and so we can see exactly what Filterbaby has done for you).
What's the difference between this and other filters?
Most common faucet filters only have activated carbon materials as their only filtration step but lack ultrafiltration capability to filter out physical contaminants. Plus, no other filter has gone through rigorous clinical testing to optimize skin conditions.
What's in the filter?
FilterBaby's three step filtration system removes particles as small as 0.2 microns.
Step 1: Woven Mesh
Removes large particles.
Step 2: Coconut-shell Based Carbon Filter
Removes and dissolves chlorine, radon, and other contaminants
Step 3: UltraFilter
extra filtration step
Removes ultra small particles as small as 0.2 micron. Including algae, rust, bacteria, parasites, and fungi.

Filterbaby filtered water is NOT intended for consumption. You can brush your teeth and rise your mouth with filtered water, but do not consume filtered water.
How often do I need to replace my filter?
Every 3 months.
With daily use, your filter needs to be replaced at least once every three months. Depending on your tap water's quality and mineral density, you may need to replace your filter more frequently.